18. radiohead
I mention "Creep" in this memory, but the "No Surprises" music video is mostly Yorke's face and is also objectively a better song and music video.
---
memory
One time, my closest friend and I were at a local Italian restaurant and some Radiohead song came on the speakers (which, to be honest, kind of a weird flex considering the family restaurant setting).
My friend and I mutually agreed that "Creep" was good, but overplayed and by far not the best Radiohead song.
---
parameters
Radiohead frontman Thom Yorke has a distinctive face. (
Apparently he underwent multiple surgeries after being born with a paralyzed eye. One of them "botched" resulting in his known drooping left eyelid
) As the frontman, he's also often the main focus of Radiohead music videos that I started to obsessively watch in high school.
As such, I decided to use Yorke's eyes to create type.
By the way, "Lift" is probably my favorite Radiohead music video and "Videotape" is probably my favorite Radiohead song.
---
reflection
I kinda like creepy stuff (not gorey). I also like how Radiohead's stuff is always so mysterious and ominous and creepy. I feel like these experiments got that level of creepy too which was pretty cool.
Experiment A: What if I just took screenshots of artist's distinguishable body parts and spelled their names out using those screenshots? Is that weird? Insensitive? Maybe I shouldn't write that down.
Experiment D: I love how this one came out. I just really like "hiding" things in obvious places (it doesn't obviously read as an "H").
experiment A. Yorke's eyes
→ Kinda
"Creep"
y, but just arranged the eyes into an "O."
experiment B. Yorke's eyes and body + filter → Tried to play with the direction changes of eye movement to guide the direction of movement.
experiment C. Yorke's eyes repeated on face → Creates a weird "H" that is also all-seeing.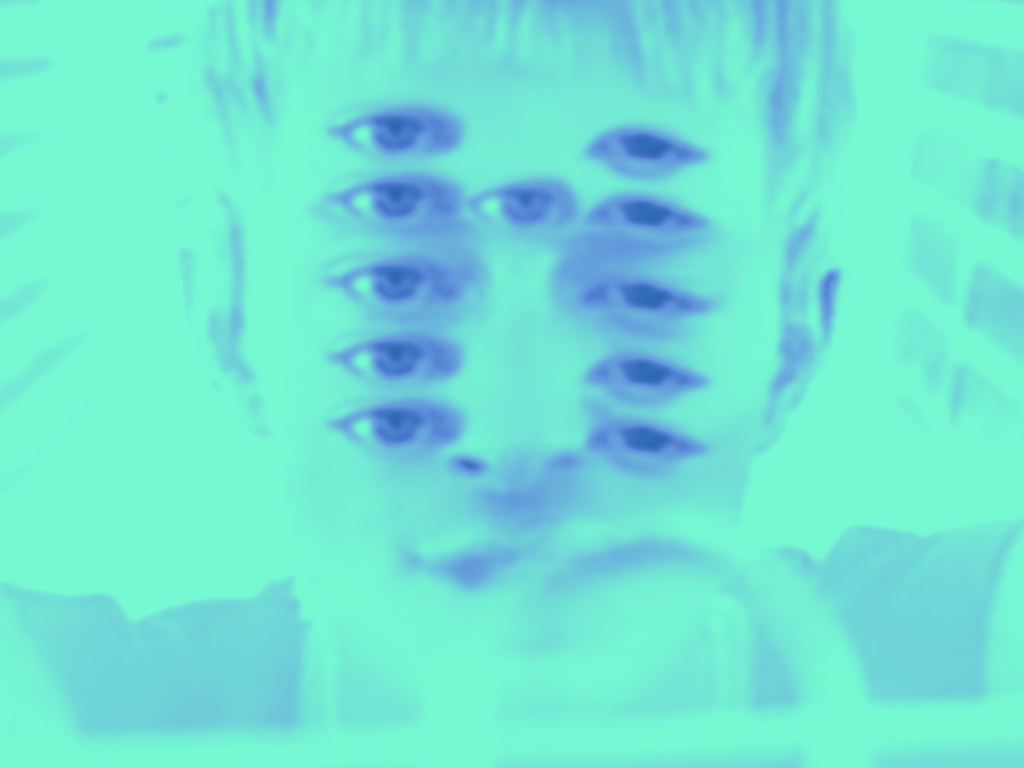 experiment D. experiment C + clipping masks → Blended the eyes into the face to make it look less cut and paste and more "naturalized."