07. 1985
---
memory
The mid-2000s are what I consider to be the "height of mainstream emo." My Chemical Romance, The Used, Fall Out Boy, Panic! At the Disco, Paramore, the list goes on and on. I even made a website about this.
But at the dawn of that era came some radio hits much like Bowling for Soup's cover of "1985" began staples of my late elementary school. It was such a staple that my friends and I would have competitions in the cafeteria to see who could remember the most lyrics.
---
parameters
I was also very crafty with my myriad number of index cards that we had to buy for no real reason (well, I guess vocabulary is pretty important to learn). So I used to make bookmarks for these same friends that would recite "1985" lyrics with. I had a very specific process of coloring it in either with pen or marker and then would fold the card down the middle and cut from the folded side almost all the way to the edge (so I wouldn't just get strips of paper). Then I'd painstakingly alternate the foldings so that it had this weird in/out situation. At some point I even sold them to my non-friend classmates (25¢ each), but then eventually got in trouble for selling things at school.
I decided to take a similar approach with this by drawing letterforms onto paper and folding then cutting each. I tried different angles and even did a little snowflake tutorial (experiment &) which didn't work well until I did it off camera.
---
reflection
I think that this technique has a lot of potential. I'm especially curious about the idea of optical illusions with this sort of technique. I also really like the idea of being able to see different things from different angles. Might work well as a 3D installation. What if I did this with letterform cut paper (instead of rectangle)?
Experiment D: I really enjoyed this experiment (though it was very annoying to seperate each of the cuts). I think that it might look cool spinning and rotating and all that good stuff. Makes me think of those spin art things that I used to do as a kid.
experiment A (part 1). card stock + vertical cuts from horizontal center fold → Using the typical way I would make a bookmark (drawing letterform then folding then cutting).
experiment A (part 2). another view → Another angle of experiment A to experiment with legibility of the letterform.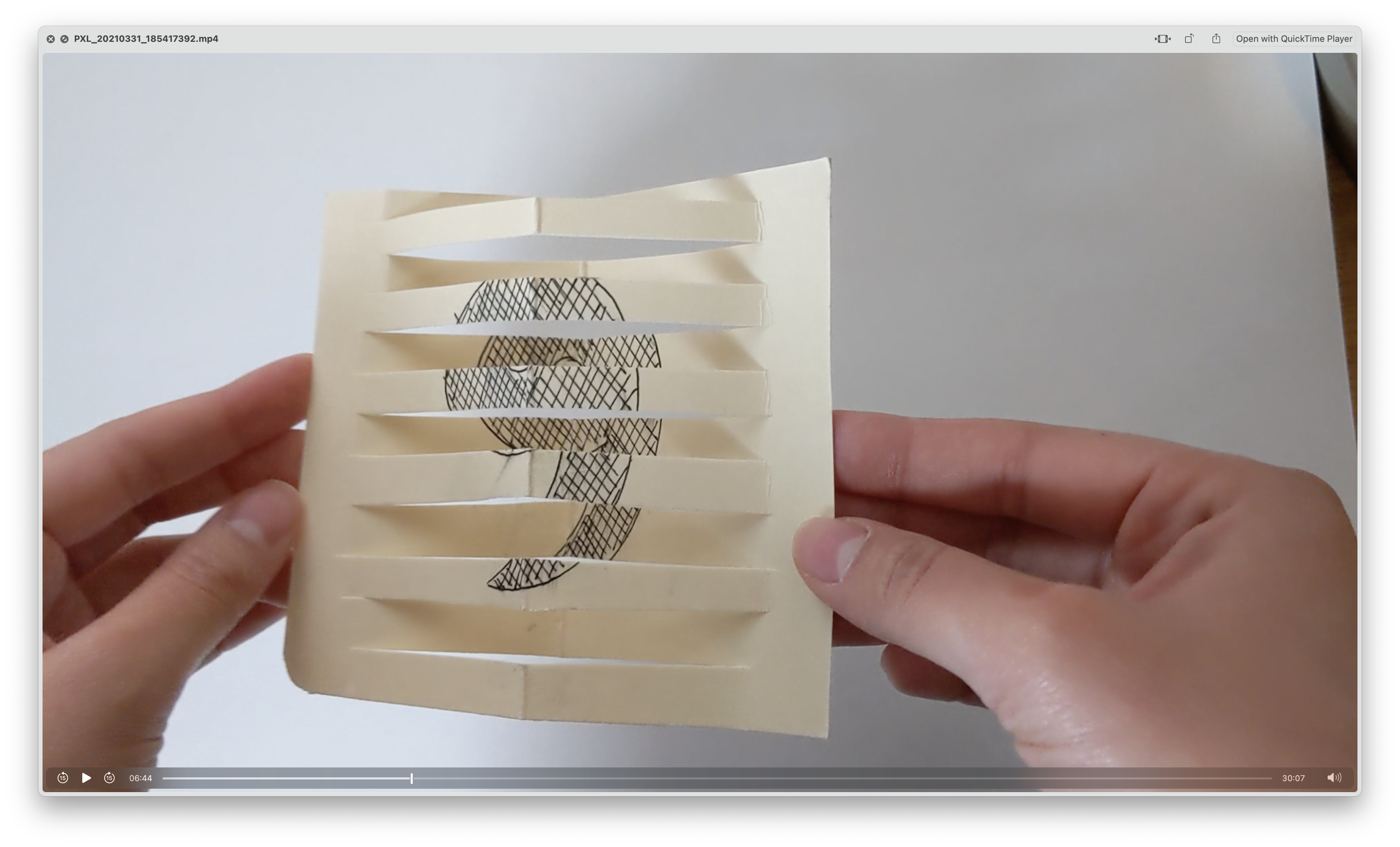 experiment B. card stock + horizontal cuts from vertical center fold → Similar idea to experiment A but with a different letterform and different angles for folding and cutting.
experiment C. card stock + angled cuts from vertical center fold → Similar idea to experiment A but with different cut angle to see if legibility is compromised or changed.
experiment D. printer paper, folded x4, + cut → Cut like a snowflake.